Paterson Times
---
22-year-old's joyride through Godwin Avenue ends in arrest
By Jonathan Greene
Published: January 12, 2015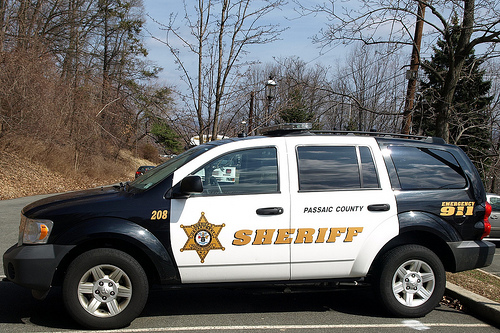 An Irvington man driving recklessly through Godwin Avenue inside a stolen white Jeep was apprehended by sheriff's officers with help from city's police early Monday morning, according to Passaic County Sheriff Richard Berdnik.
Marod Wilcox, 22, of Irvington, was traveling in the wrong way on Godwin Avenue, at around 6 a.m. on Monday. As it happens Sheriff's Officers Eric Fajardo and Joe Carmichael were on patrol of the area.
The two officers attempted a motor vehicle stop at the intersection of Carroll Street and Godwin Avenue after spotting the white Jeep traveling in the wrong way. Wilcox "ignored the lights and sirens and then attempted to elude the officers," Berdnik said. "Wilcox disregarded several traffic control devices and almost struck several vehicles."
"Wilcox shortly thereafter lost control of the vehicle and drove up on the sidewalk and crashed into a retaining wall and fence, located in between 619 and 617 Hamilton Avenue," the sheriff said.
Wilcox and three other suspects exited the vehicle. Wilcox began to run on foot towards 12th Avenue. Wilcox ran for 50 yards from 12th Avenue towards East 24th Street and then turning around on 12th Avenue towards East 23rd Street, during that last portion of his sprint, a city police unit blocked Wilcox's path by pulling a police interceptor in front of the suspect.
Fajardo arrested Wilcox.
Authorities determined the vehicle was stolen after arresting the suspect. Wilcox is charged with eluding, receiving stolen property. Authorities also issued summons charging Wilcox with driving wrong way on a one-way street, driving without a license, failure to obey traffic sign, reckless driving, and driving while suspended.
Wilcox was found to have an outstanding $200 warrant out of Newark. He was transported to city police lockup, Berdnik said.
Authorities are on the lookout for the three other suspects who were with Wilcox.
"I want to commend all PCSO and Paterson Police Officer who were involved in this investigation and arrest," Berdnik said. "In addition to arresting a potential car theft, this suspect drove erratically and had no regards for the safety of [the] citizens of Paterson."
Copyright © 2012-2023 Paterson Times all rights reserved.