Paterson Times
---
Paterson school board gets local control over personnel, fiscal management
By Jayed Rahman
Published: February 10, 2016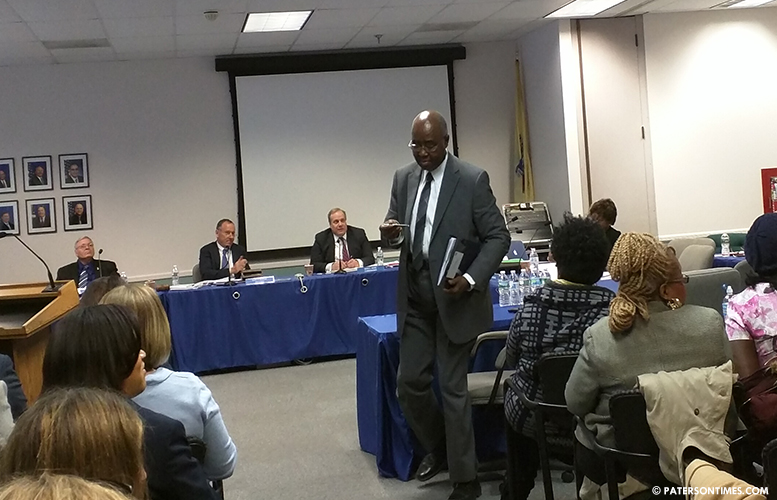 The city's school board was handed control over personnel and fiscal management by the New Jersey Department of Education on Wednesday morning.
With fiscal, personnel, and the previous return of operations, the school board now has control over three out of the five functional areas in the district.
School board president Christopher Irving and board member Jonathan Hodges said return of local control of fiscal and personnel has been long time coming. The board now has two areas that remain under state control: governance, curriculum and instruction.
"The return of these two areas is a direct reflection of the Paterson Board's capacity to show its citizens and the State that we can indeed lead our school system," said Irving.
"It was long overdue," said Hodges.
State-appointed district superintendent Donnie Evans told the state board the district will now have "more flexibility" to tackle the many problems it faces.
"Today's milestone announcement is testament to the outstanding work of our staff, our students and our Board members," added Evans.
A small group of community activists attended Wednesday morning's meeting. "It's awesome," said Rosie Grant, executive director of the Paterson Education Fund, an advocacy. "It's a great day for Paterson."
The city's school district has been under state control since 1991.
"That means we're doing something right," said Linda Reid, head of the Parent Education Organizing Council (PEOC).
The state board approved the return of fiscal and personnel immediately after Evans gave a presentation touting the progress the district has made over the past six years. He cited graduation rates and more students being accepted to colleges.
The district received high marks in the November 2015 Quality Single Accountability Continuum (QSAC) review. In the area of personnel the district scored 100-percent. In fiscal management the district earned an 86-percent.
Other functional area scores are as follows: governance, 76-percent; operations 85-percent; instruction and program, 32-percent. The school board received local control over operations in June 2014.
The district has received high marks in fiscal management — above the 80-percent threshold to secure local control — for the last three years, according to the district.
Hodges pointed out the district is being handed fiscal management control at a time when the schools face a dire financial situation. The district laid off more than 360 employees at the end of the last school year to balance its budget.It faces an escalating $186 million budget deficit by 2019, according to a projection completed by an auditing firm.
Board member Errol Kerr, Irving, Chrystal Cleaves, and Hodges attended the meeting.
"The board never gave up," said Cleaves.
Copyright © 2012-2022 Paterson Times all rights reserved.