Paterson Times
---
Abdelaziz challenges Sayegh to sign pledge to complete council term prior to running for other offices
By Jayed Rahman
Published: April 3, 2016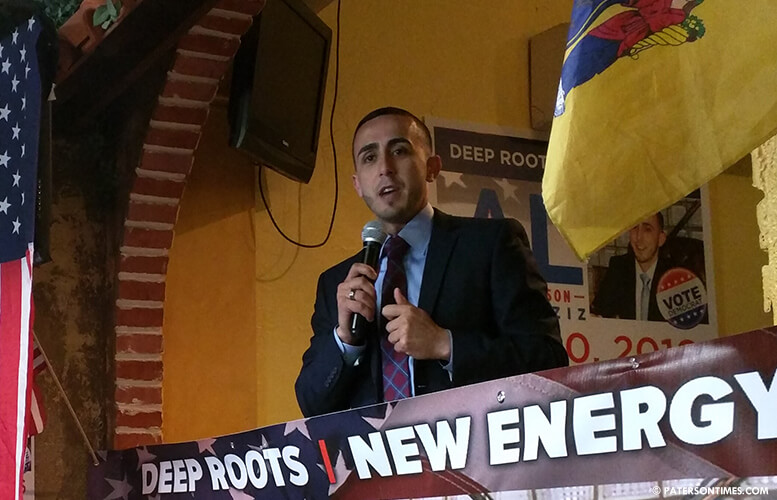 Challenger Al Abdelaziz dared incumbent Andre Sayegh on Saturday afternoon to sign a pledge which will bind the winner of the May election to serve out the 6th Ward city council term which expires in 2020 before seeking any higher offices.
"In the event of our election to City council, we will not seek higher office and pledge that we will fulfill our commitment to the 6th Ward by serving out our full term, until July 2020," reads the pledge unveiled by Abdelaziz at his campaign headquarter opening on 21st Avenue.
"People want a person who will put the 6th Ward first before any other political ambitions," said Abdelaziz to the cheer of roughly 150 people. "We cannot allow ourselves to be distracted by any desires for advancement."
Abdelaziz said he has signed the pledge and is in process of sending a copy to Sayegh for his signature.
"Here comes another election ploy," said Sayegh on Sunday morning. He indicated he has little interest in stumbling into a political ruse setup by his opponent.
Abdelaziz, who has been endorsed by embattled mayor Jose "Joey" Torres, suspects Sayegh is focusing on another mayoral run either if the third Torres administration collapses on the public works scandal involving the mayor or in 2018.
"He's focusing on a future run for mayor already," said Abdelaziz of Sayegh. Sayegh unsuccessfully ran for mayor in 2010 and 2014. Abdelaziz said these runs serve to distract a councilman from the daily business of representing the 6th Ward.
"I'd love to emulate the success we've had in the 6th Ward to all six wards," said Sayegh. "I shouldn't be faulted for wanting to step up for my city."
Abdelaziz's campaign headquarter opening attracted the largest crowd in this year's election season of all the candidates.
Estelle Sandler, 72, came to the opening, after being fed up with a large pothole on Kipp Place near 22nd Avenue. She said she has attempted to get the pothole filled by many avenues without success.
Sandler even went to Torres' office seeking assistance. "He'd not come out of his office to talk to me," she said of the mayor.
Sandler said she is fed up with ineffective city government and wants change.
"It's something about him that I trust," said Debbie Gentle, 79, who resides in the 6th Ward, of Abdelaziz.
Debbie and her husband Joe, 82, said Abdelaziz often visits them just to chat and check on their welfare.
"We've had Andre do things for us too," said Joe Gentle.
The couple have a tough choice to make in the May 10th elections when they have to vote for Sayegh or Abdelaziz.
Copyright © 2012-2022 Paterson Times all rights reserved.