Paterson Times
---
Al Moody helped troubled Paterson students. Now, a school is named after him.
By Jayed Rahman
Published: March 19, 2021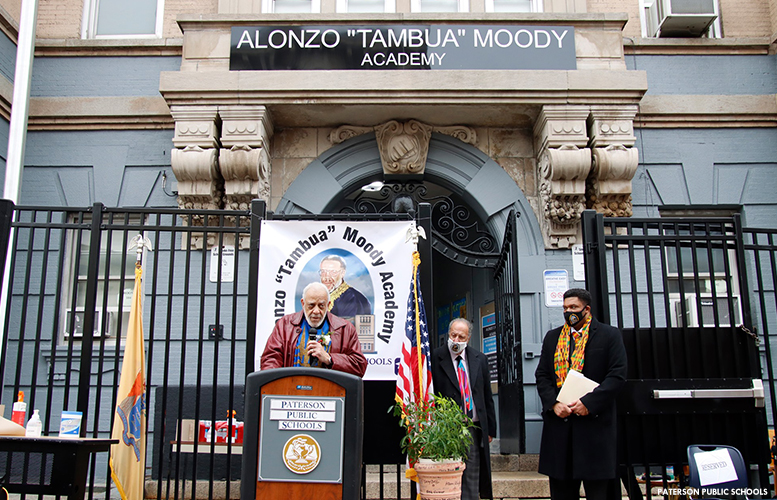 Al Moody has spent much of his adult life looking after troubled young people, often setting them on the right track by teaching them habits that kept them out of the streets and out of the criminal justice system.
School officials recognized his work by naming the Great Falls Academy, which educates troubled students, housed at the old School 11 building on Market Street, to the Alonzo Moody Academy.
On Wednesday, school officials unveiled a new sign for the building: Alonzo "Tambua" Moody Academy. School officials renovated the interior and exterior of the building prior to the ceremony. A new paint job refreshed the exterior of the building in middle of a run-down neighborhood.
"Kids who had nowhere to turn to could turn to Mr. Moody," said superintendent Eileen Shafer during the ceremony renaming the school. "It's easy to dismiss someone as a lost cause. It's so much harder to elevate a person to become self-reliant and independent. And that's what Mr. Alonzo Moody did."
Shafer said she first met Moody some three decades ago when she joined the district. She said Moody changed the lives of countless number of troubled young people.
"We have to honor our heroes and give them flowers while they can still smell the flowers," said school board member Emanuel Capers.
Capers succeeded in convincing his colleagues to name the school after Moody (pictured at the podium).
Moody listened as school and community leaders praised and thanked him for his work.
"It's just very humbling," said Moody, 74, last year when the school renaming was proposed.
Moody served on the school board from 1991-2007. He is credited with keeping thousands of young people out of prison through a diversionary program. He and his wife Sarah fostered over 100 abused, abandoned, and neglected boys while raising three of their own biological sons, according to the school naming resolution.
Moody graduated from Paterson Central High School in 1965. He then served in U.S. Air Force from Jan. 1966 through May 1969. Stationed in Hawaii, Moody attended the Honolulu Business College for a year. He earned his bachelor's degree in metropolitan studies and urban planning in 1976 from Ramapo College.
Moody's son, Zatiti Moody, is one of the principals of the formerly Great Falls Academy. He described his father as his hero.
"You have fulfilled your duty by living up to your mission which was to create a better world than the one you inherited," the son said of his father. "Job well done."
Email: [email protected]
Copyright © 2012-2023 Paterson Times all rights reserved.