A drug distribution network run by the Bloods street gang set the "4K Boyz" in Paterson has been dismantled, announced New Jersey Attorney General Gurbir S. Grewal on Thursday afternoon.
27,000 doses of heroin, a kilo of bulk heroin, 400 grams of fentanyl, 152 grams of cocaine, and 21 grams of methamphetamine were seized in "Operation 4K Boyz."
$60,000 in cash was confiscated, authorities said.
Ten people were arrested in the operation. Kashard Whitaker, 41; Shakeem Browning, 34; Miguel Guerrero-Santana, 29; Carlos Nunez, 32; McCoy Whitaker, 62; Enmanuel Ortiz, 38; Escarlin Rivas, 35; Regin Rivas, 36; Yakgsenei Rivas-Pena, 33; and Albert Whitaker, 64, all of Paterson, were each arrested and charged.
Authorities identified Kashard as the leader of the network. He allegedly commanded a ring of suppliers and street-level drug dealers.
Guerrero-Santana was Whitaker's primary supplier. He ran an opioid mill at 25 Kent Village, also known as 769 11th Avenue. A second supplier, Nunez, operated an opioid mill out of 169 Grand Street, authorities said.
Kashard was allegedly buying 25,000 to 30,000 wax folds of heroin and fentanyl a week for distribution to his network. His network then distributed the heroin to dealers and customers, authorities said.
Federal, state, and local law enforcement officials raided the mills on Friday. Law enforcement officers discovered drug dealers wearing latex gloves and masks were mixing fentanyl and heroin with cutting agents to make their products. Authorities said the mills then packaged heroin laced with fentanyl into individual-dose wax folds.
Heroin seized in the investigation were stamped Empire, KFC, Takeover, Tuna Fish, Stingray, New Jack City, 2019, Sweet Dreams, and Tailgate. Authorities linked the brands to 16 fatal and 22 non-fatal overdoses.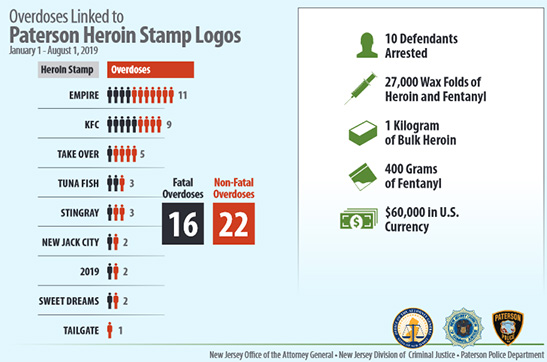 Authorities uncovered evidence that links drugs distributed by the network to overdose deaths, potentially paving the way for some of the alleged drug dealers to face strict liability for overdose deaths.
"Paterson is a major opioid distribution hub for users across North Jersey and into New York and Pennsylvania, and we allege that Whitaker's network and the two mills that supplied him were major sources of heroin and fentanyl," said Grewal said. "In those mills, drug dealers – not chemists – imprecisely mixed heroin and other agents with fentanyl to produce super-potent doses, engaging in a form of Russian roulette with users across the region."
Whitaker is charged with first-degree promoting organized street crime. Guerrero-Santana and Nunez are each charged with first-degree operating a drug production facility.
Authorities said Browning worked as a mid-level distributor. He reported directly to Kashard. McCoy, who is Kashard's uncle, was a runner delivering drugs to customers, authorities said.
Kashard and Browning are members of the 4K Boyz street gang, authorities said.
"Location and other factors have made Paterson a center for heroin distribution across the region, but we are doing everything in our power to cut off these major opioid sources and bring drug traffickers to justice," police chief Troy Oswald said.
Oswald thanked the New Jersey Attorney General's Office and the Division of Criminal Justice for assisting in dismantling the network. Federal Drug Enforcement Administration (DEA) and Homeland Security Investigations assisted in conducting the raids, authorities said.
Authorities executed search warrants at the mills and stash houses to take down the network, seizing cash, equipment, and materials used to process and package the drugs.
"We undoubtedly saved lives by shutting down this supply line of opioids, and we will continue to protect the public by targeting major opioid sources," Grewal said.
Correction (Aug. 9, 2019): A previous version of this report showed an incorrect image of Albert Whitaker. Incorrect image has been removed from the report.