City Politics
A consultant outlined several options to the City Council on Tuesday night to revamp the controversial sewer utility.
Police News
A city man has been charged with witness tampering in a child sex abuse case for allegedly getting the victim to recant sexual assault allegations, according to the Passaic County Prosecutor's Office.
A man has been arrested and charged with first-degree murder for his role in a homicide on Summer Street, according to the Passaic County Prosecutor's Office.
A Clifton man, who sent threatening text messages, including one where he called Paterson's Muslim police chief a "terrorist," pleaded guilty on Monday morning.
A man charged with weapons and drug offenses in 2019 pleaded guilty on Friday.
A four-alarm fire displaced 23 people from their Temple Street homes on Sunday afternoon, according to public safety director Jerry Speziale.
Firefighters rescued two sleeping occupants from a burning building on Berkshire Avenue on Sunday morning, according to public safety director Jerry Speziale.
Education
The Paterson school district spent nearly $20 million over the past months to get ready to reopen for in-person learning, but schools buildings remain closed and students are still attending virtual classes.
After much to-do, the Paterson Education Association (PEA) was finally permitted to exercise its right under law to conduct safety walkthroughs of all district buildings on April 21 and 22.  While we did not expect to find everything in perfect working order, we were shocked at the level of disrepair that awaited us, making it…
After serving a six-month suspension, school board member Emanuel Capers returned to the Board of Education last week.
Under pressure from increasing Covid-19 cases and the teachers' union, superintendent Eileen Shafer put off a decision to reopen in-person learning for New Jersey's third biggest school district.
After being closed for more than a year because of the Covid-19 pandemic, the Paterson school district will be fully prepared to reopen in-person learning for its nearly 30,000 students on May 3, said superintendent Eileen Shafer on Monday afternoon.
School board member Emanuel Capers is wrapping up a six-month suspension for an ethics violation case and expecting to return to the Board of Education in late April.
Health
After getting a notice to pause giving the Johnson & Johnson vaccine because of concerns over blood clots in small number of recipients, municipal officials cancelled all primary dose vaccinations at the International High School site on Tuesday morning.
Passaic County has partnered with the Federal Emergency Management Agency (FEMA) and St. Joseph's University Medical Center to roll out an initiative to vaccinate residents in undeserved parts of Paterson, Passaic City, and Prospect Park.
A Clifton man, who allegedly sent threatening text messages to Paterson police chief, has been indicted.
Just weeks after the Division of Health began administering Covid-19 tests to residents using its mobile unit, mayor Andre Sayegh's administration reduced the city's testing budget by $150,000.
The vast majority – as much as 80 percent – of the Covid-19 vaccines being administered at International High School are now going in the arms of city residents, said health officer Paul Persaud on Thursday night.
Mayor Andre Sayegh's administration will have to entirely run the vaccination site at International High School after a dispute with the school district. Previously, school nurses and security were working with municipal health workers to vaccinate thousands of people.
Business
A couple from Wayne was sentenced to federal prison on Tuesday for their role in a $4.5 million food stamp fraud scheme run out of a Paterson grocery store.
Businesses in downtown Paterson, hit hard by the pandemic, will be able to conduct sidewalk sales for the next six months.
After losing the court battle to take over the Levine family's property in South Paterson for a parking garage project, the Paterson Parking Authority has paid them $41,768, according to public records.
Sports
A pair of brothers known for bringing home gold from national and international jiu-jitsu competitions did it again. Jason Dixon and Jalen Mitchell returned to Paterson with gold and bronze medals from the Pan IBJJF Jiu-Jitsu Championship, biggest martial arts competition in the world for kids, held in Long Beach, Calf. last Sunday.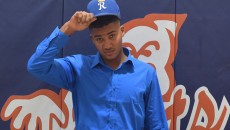 Frandy Cuevas played for the Eastside High School baseball team for a year. His coach immediately recognized greatness.
12-year-old Jalen Mitchell defeated his opponent to win gold in the boys Teen 1 orange belt featherweight category at the Pan Kids IBJJF Jiu-Jitsu Championship in California.