City Politics
Governor Phil Murphy's administration has awarded $734,812 to Paterson for the rehabilitation of the historic Danforth Memorial Library. Funds from the Library Construction Bond Act will be used to renovate the children's department, the community literacy center, replace the roof, repair the retaining wall, and modify the handicap compliant elevator, according to mayor Andre Sayegh's…
Police News
A city man has been arrested for his alleged role in a shooting on Governor Street, according to the Passaic County Prosecutor's Office.
A city man has been arrested and charged with attempted murder for his alleged role in a shooting on Fair Street.
A man wanted for his alleged role in shooting in Paterson was picked up in a traffic stop in Clifton early Sunday morning, according to the Passaic County Prosecutor's Office.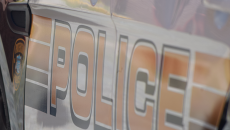 A man and a woman were wounded in a shooting on Market Street early Sunday morning, according to the Passaic County Prosecutor's Office.
A city man wanted in relation to a shooting was arrested in a traffic stop on Summer Street early Saturday morning.
A city woman was killed in a shooting on Van Houten Street on Wednesday night, according to the Passaic County Prosecutor's Office.
Education
Incumbents Jonathan Hodges, Kenneth Simmons, and newcomer Dania Martinez won seats on the Board of Education.
After four people tested positive for Covid-19, the Community Charter School of Paterson is shifting to all-remote learning beginning on Wednesday.
After two staff members and a student tested positive for Covid-19, the College Achieve Charter School switched to all-remote learning.
Two employees tested positive for Covid-19 at Eastside High School prompting the district to institute remote work for all staff until November 12.
Mayor Andre Sayegh's administration may use more than $3 million in federal Cares Act money to fund the school district's purchase of digital boards, Chromebooks, thermal cameras, and protective gears.
School board member Emanuel Capers, who went on an all-expenses paid trip to Arizona funded by a potential vendor, resulting in ethics charges that dogged him for two years, has been issued a six-month suspension by the New Jersey Commissioner of Education.
Health
A fresh record has been set in the daily Covid-19 cases in Paterson, topping the previous record set a week earlier.
Councilman Luis Velez, who contracted the new coronavirus earlier in the month, has recovered.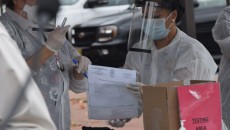 A woman was arrested on Friday after allegedly attacking a healthcare worker at a Covid-19 testing site in Paterson.
Health officials reported 285 new Covid-19 cases, shattering the daily case count record set two days earlier, in Paterson on Sunday.
Daily new coronavirus cases have been surging in Paterson over the past month. On Friday, municipal officials reported 278 new cases, highest daily figure since the pandemic began.
Councilwoman Maritza Davila appeared to suffer from shortness of breath while speaking at the televised City Council meeting on Tuesday night.
Business
The New Jersey Community Development Corporation (NJCDC) is giving out $160,000 in small grants to businesses in the vicinity of Great Falls.
Municipal officials refused to grant entertainment and dance hall licenses to Hornitos Bakery on 21st Avenue citing "constant" loud music.
Bergen County and Bergen New Bridge Medical Center purchased 110,000 N95 masks from a Paterson manufacturing company in preparation for a possible resurgence of coronavirus cases in the fall.
Sports
A pair of brothers known for bringing home gold from national and international jiu-jitsu competitions did it again. Jason Dixon and Jalen Mitchell returned to Paterson with gold and bronze medals from the Pan IBJJF Jiu-Jitsu Championship, biggest martial arts competition in the world for kids, held in Long Beach, Calf. last Sunday.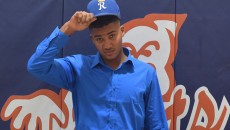 Frandy Cuevas played for the Eastside High School baseball team for a year. His coach immediately recognized greatness.
12-year-old Jalen Mitchell defeated his opponent to win gold in the boys Teen 1 orange belt featherweight category at the Pan Kids IBJJF Jiu-Jitsu Championship in California.